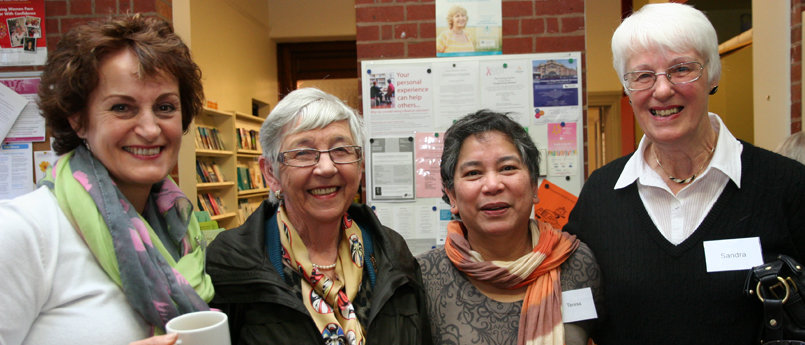 Volunteer at Counterpart
Volunteers are vital to the work of Counterpart. All our volunteers have experienced breast or a gynaecological cancer and understand what it can be like. Our volunteers come from diverse backgrounds and bring with them many skills and qualities (read some of their stories here). They range in age as well as their personal experience of breast or a gynaecological cancer. Counterpart encourages the participation of volunteers in the development and operation of our service.
We have two types of volunteers at Counterpart. Peer Support Volunteers support women with breast or a gynaecological cancer through listening, supporting and providing information. We recruit and train new Peer Support Volunteers once a year. Program Volunteers help us in a variety of ways, including assisting with our mail-outs.
Peer Support Volunteers
Peer support is the cornerstone of our service. Our highly-trained, professional Peer Support Volunteers provide a listening ear and practical support to help women adjust to life following a cancer diagnosis.
We hear you from Counterpart on Vimeo.
What's involved?
Completion of our quality training course: 6 days, over 6 weeks
Induction to our city-based Resource Centre and programs
A commitment to a minimum of 1 x 5-hour shift per month on a Monday, Wednesday or Thursday
Attendance to regular training days throughout the year.
Requirements
Have had a gynaecological or breast cancer diagnosis
Proficient in English, both spoken and written
Aged between 18 and 80
Preferably at least two years post-diagnosis.
Position description
Download the Peer Support Volunteer position description (PDF)
Applications for the 2021 volunteer intake are closed. If you are interested in becoming a Peer Support Volunteer and would like updates regarding our next intake of volunteers please email kellie.holland@counterpart.org.au
---
Other ways to get involved
Our Program Volunteers are women who have experienced breast or a gynaecological cancer and assist with Counterpart programs that support women. Working as a Program Volunteer, either in our library or helping with our mail-outs, may be a springboard to becoming a Peer Support Volunteer in the future; for others it's a way to volunteer for a service they themselves may have used and value in a way that suits them. Find out more about these volunteer roles in our information sheet: Download the PDF
We also recognise that people may want to contribute to the service but share their experiences in a different capacity. This might be people who are partners or carers, people who live in rural and regional Victoria, or younger women who have to balance various commitments. If so, please consider contacting us.
---
Would you like to know more?
Get in contact:
For even more information please contact our Team Leader Operations/Volunteer Coordinator:
kellie.holland@counterpart.org.au       or     03 8488 9834
---
Current volunteers can access more information on our 
Volunteer Portal
.